Which is the Best Family SUV out of these two?
Both the 2019 Ford Edge and the 2019 Chevrolet Equinox are SUVs that suit the average family. The 2019 Ford Edge, however, beats its competition by having more power, a nicer interior in both space and style and more safety features. Hence 2019 Ford Edge turns out to be the best out of these two when it comes to performance, the spaciousness of the interior cabin and the overall value experienced by the consumers while they are on the go.
Come to Sutton Ford in Matteson, IL and explore the 2019 Ford Edge today.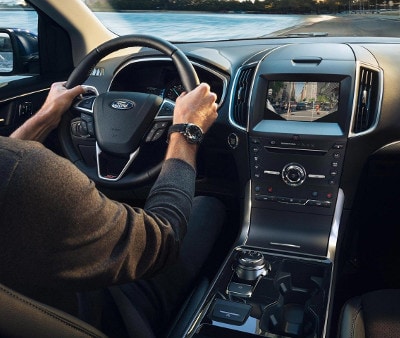 Interior Features
The 2019 Ford Edge features a premium look and feel with lots of room for the family. It has a lot more space than the 2019 Chevrolet Equinox and you can fit all of the gear your busy family needs.
2019 Chevy Equinox

29.9 cubic feet of cargo space behind rear seats
Folded down space is 63.5 cubic feet
Redesigned seats with some options
Hands free liftgate or power liftgate available

2019 Ford Edge

39.2 cub ft of cargo room behind rear seats
73.4 cub ft with seats folded down
Many options for seat comfort including heated and cooled front seats
Option for push button easy fold front seats
Hands free & Foot activated liftgate available

Bring the family and the gear, and see how well you all fit into the 2019 Ford Edge at Sutton Ford in Matteson.
Driving performance
New SUVs are designed to drive and perform like a car, but with enough power to get through weather and haul the family and their gear. The 2019 Ford Edge and the 2019 Chevy Equinox are both capable, but the Ford is engineered to outperform the Chevy and it does.
2019 Ford Edge
Two available engines offer more than enough attitude under the hood
The turbocharged, direct-injection twin-scroll 2.0L EcoBoost®,
The athletic 2.7L EcoBoost V6.
 2019 Chevrolet Equinox
1.5 L turbo 4 cylinder
1.6: turbodiesel
2.0L turbo 4 cylinder
HP ranges from 137-252
Come feel the power of the 2019 Ford Edge and take a test drive at Sutton Ford in Matteson today.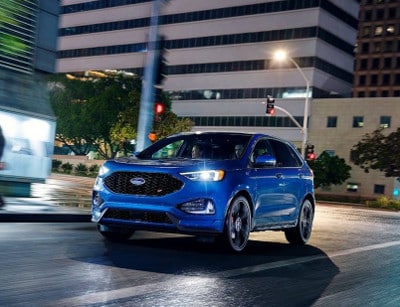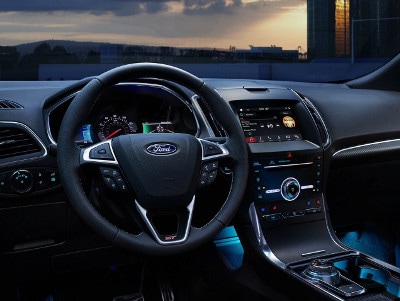 Technology
The 2019 Ford Edge and the 2019 Chevrolet Equinox, both feature lots of tech amenities for your convenience and entertainment, including touch screens, Apple Car Play and Android Auto compatibility, premium audio available, and satellite radio as an option.
Safety technology is available in both vehicles, but the Ford Edge again has options not available on the Equinox.
Both have available:
Rearview camera
Teen driver safety system
Multi view camera system
Forward collision warning with automatic braking
Blind spot monitoring
Rear cross traffic alert
The Ford Edge has:
Adaptive cruise control
Active park assist
Rain sensing wipers
Inflatable rear safety belts
Hassle Free Charging
Come to Sutton Ford in Matteson and check out the convenient and safety tech in the 2019 Ford Edge.
2019 Ford Edge "Best Bang For Your Buck!"
The 2019 Ford Edge is a better bang for your buck than the 2019 Chevrolet Equinox, the Edge has:
More interior space for comfort for your family
Nicer cabin features
More power
Safety features for your peace of mind
Experience the value of the 2019 Ford Edge at Sutton Ford in Matteson.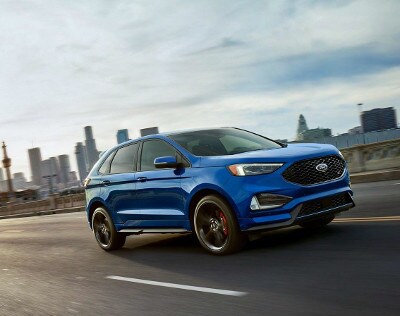 Why Buy from Sutton Ford of Matteson, IL?
At Sutton Ford in Matteson, we are excited to help you find the new 2019 Ford Edge with all the options that fit your family. We have a great selection for you to choose from, and with friendly sales staff and experienced finance professionals we will make your 2019 Ford Edge buying experience fun and easy. You are most welcome to visit us, not only to make your purchase of 2019 Ford Edge but you may also bring your car for service. We stock OEM parts and our technicians are highly qualified and they are factory trained pros so whatever we do, we do our best. Good news for you is that we keep offering a number of incentives and special offers for our customers. Come and visit us today to lease your favorite 2019 Ford Edge or secure an auto loan to make it your own.