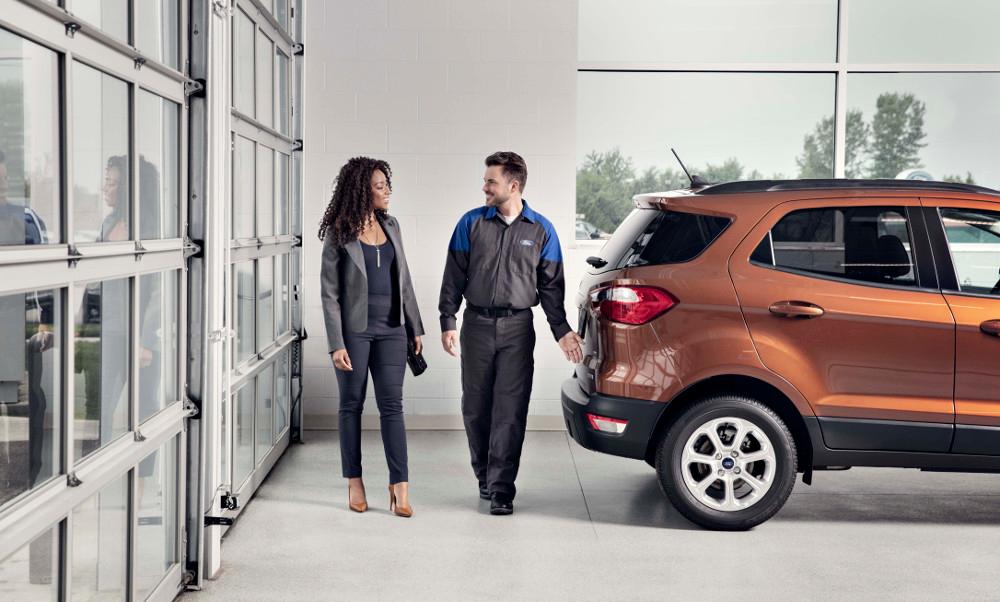 Help Your Car Perform Like New with the Sutton Ford Service Department, Proudly Serving Matteson, Tinley Park, Chicago Heights, Frankfort and Park Forest
Like anything else you own, your car will perform better when it's properly cared for. An essential part of taking care of your Ford: routine maintenance. Keeping up with the service schedule in your owner's manual ensures your Ford Escape, Explorer, Fusion, F-150 or Focus will run efficiently and safely.
Because so much work goes into caring for your car, Sutton Ford maintains an onsite auto service and repair department, staffed with mechanics that are trained to know Ford models, specifically. They're also equipped with the same Ford parts that are used to assemble your car, meaning you can count on like-new performance when you drive your car home.
As for what we can do for your car: that's up to you. Simply fill out our online appointment form to let us know what your car needs. Whether you're looking for something simple like an oil change or you need us to inspect your brakes, we're ready to help you get the most out of your Ford.
Quick and Reliable Service for Trucks, SUVs, and Sedans
If you're in need of simple maintenance or extensive repairs, our Sutton Ford service center is ready to help! Bring your car, truck, or SUV into our shop and our highly trained technicians will have you back on the road in no tim
Save on Your Next Auto Service with Discount Coupons
Don't get overcharged for auto service needs - come to Sutton Ford for top quality work at a reasonable rate! Take advantage of our Sutton Ford service discounts to get a great price on your next repair or maintenance job.
Schedule an Appointment from Your Phone or Computer
When you're ready to take your vehicle in to our service center, schedule an appointment online or by calling a service representative. Our staff is waiting to take your call, so schedule today!
Takata Airbag Recall for Ford Vehicles
Sutton Ford is and will always stay committed to making the safety of its customers, their families, and the overall Ford ownership experience as great as possible. Staying true to that committment, we would like to inform you of the Takata supplied airbag inflactor recall. You may be driving a Ford vehicle that is part of the nationwide Takata airbag recall. These airbags can explode in the event of a crash, spraying shrapnel that can injure or kill. In some cases, only the driver's or passenger's side may be affected. In other cases, both the driver's side and passenger's side need to be repaired. This issue requires immediate attention and should not be taken lightly.
The specially-trained technicians at Sutton Ford are prepared with the knowledge and parts necessary to complete the recall repair work while making the whole experience hassle-free despite the inconvenience of the recall.
Reach out to the Sutton Ford's service department today to schedule an appointment at 888-351-3947!